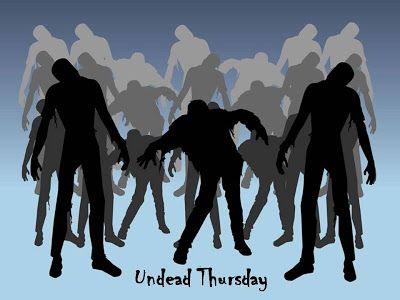 Hello! And welcome back to another edition of Undead Thursdays, a special blog event I`m having every Thursday in January to celebrate the release of the anthology
He Loves Me For My Brainssss
from Torquere Press that includes my novella
Two Guys Walk Into An Apocalypse.
Every Thursday we`ll have guest bloggers that have written zombie tales or articles. We`ll also have a new book review of a zombie book that I really enjoyed amid all the undead love from my fellow scribes! All in all it should be a great time getting to meet new authors and zombie aficionados.
Today`s undead treat is my book review for
Alice in Zombieland
by Nickolas Cook, with artwork Brent Cardillo. Lewis Carroll and Sir John Tenniel are also listed as writer and artist, and justly so for their touch is very heavy in this retelling of the classic tale.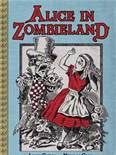 Right off the bat we see that things are quite different in this upside-down world. Alice begins by following the Black Rat down the gaping mouth of an open grave where she tumbles and tumbles and falls and falls. Upon landing she finds herself in a rotten sort of undead nightmare filled with rotting flesh and craziness. As she ventures deeper into the land of zombies she comes across familiar yet very different characters. As an added problem, as Alice is adventuring in Zombieland she discovers that her hair is falling out, her skin is rotting, and she can`t stop thinking about nibbling on people she encounters.
I thoroughly enjoyed this retelling. It was the small details that kept me so amused. The Mad Hatter`s tea party for instance is wickedly clever and filled with all the required things: Alice in a pinafore (Although it`s getting rather bloody and gory), an assortment of tea cups, and ample food to share. What the food is I`ll leave to your imagination.
If you`ve read the classic by Mr. Carroll and are looking for a darker, bloodier, zombie-filled version of the tale (who isn`t?) your book is here. A solid 4 star read for any fan of the undead and tea parties with insane hatters.